Rabbit Rabbit: A New Model of Musician Entrepreneurship
Rabbit Rabbit is getting all sorts of attention for its recent write-up in the New York Times discussing the band's very own subscription-based fan service, Rabbit Rabbit Radio. It's grassroots crowdfunding at its best and most sustainable. Fans get a bundle of high-quality original content every month, in exchange for a low pay-what-you-want monthly fee.
But Rabbit Rabbit Radio is just the entrance to this rabbit hole. Matthias Bossi and Carla Kihlstedt are partners in music and life, with decades of collective experience playing for some of the most interesting and inventive indie bands on the scene. They are supporting themselves and their growing family through music, which necessitates a wide variety of money-making strategies and an entrepreneurial attitude.
I spoke with them recently about the challenges and opportunities created by the rapidly changing business of music. Independent musicians would be wise to pay attention. Instead of bemoaning the changes brought on by the digital age, Matthias and Carla are pioneering the new music career as real-deal, working-class musicians. Or, as Carla puts it: "At some point, it was just more fun to think like an entrepreneur, instead of just complaining that it was all dying and going to hell."
By adapting their lifestyle and business model to best serve their dedicated fan base, Rabbit Rabbit is an inspiring example of triumphant musician-entrepreneurship.
Can you tell me a little about your musical background, and how Rabbit Rabbit Radio came about?
Matthias: I played in a lot of bands. Skeleton Key, Sleepytime Gorilla Museum, The Book of Knots, made a lot of records with people like John Vanderslice, St. Vincent, Tiger Lillies, Pretty Lights. I played music with my wife Carla — she's a great violinist — in Sleepytime Gorilla Museum and The Book of Knots. We had a kid, we have a second kid on the way. We decided since we're not touring as much, why not start this thing that keeps us in touch with our fans. Especially because we're basically removing ourselves from society and moving to the far reaches of Massachusetts.
Carla: I too have played in a lot of different projects with a lot of different people and had a pretty super-fun and very hydra-headed, multifaceted musical life including Tin Hat, The Book of Knots, Sleepytime Gorilla Museum and with our friend and compatriot and hero Fred Frith — various recordings and projects of his. Lots of classical music and contemporary classical music. We're kind of musical omnivores in that way.
I used to tour ten months out of the year with various projects. That clearly is not the best way to raise a kid, unless you're a millionaire and can bring your school and your nanny along with you. So that's in part why we've done Rabbit Rabbit Radio. It's been super-fun and challenging, and we totally made it up as we went along. We kind of pieced together our livelihood via various things. Rabbit Rabbit Radio at this point is a tiny fraction of our actual living. Basically, it makes enough money to pay for itself. Which is great — we wanted to get there in the first year and we did. I also teach at New England Conservatory part-time, and I do a lot of commissions. Matthias writes a lot of music for various things.
M: We do radio documentaries, I do video game music. We definitely make it up. Our goal is that Rabbit Rabbit Radio should be a bigger part of the monthly income stream. It'll never be passive income given how many man- and woman-hours go into it every month. We have to generate the content freshly every month. We're just chugging away. There's a steady but slow climb up. Certainly the Times article, this summer's tour and the publicity surrounding that really helped get the word out.
You're clearly doing everything you can to make money from music, and that means doing a lot of different things. Musicians often have this attitude of "if I make great music, I'll get signed and that will be that", which is definitely not the case. What advice would you give musicians who want to follow your model?
M: In the Times article, there's that quote from John Schaefer of WNYC where he said, "If Radiohead did this, it'd be huge. They're already millionaires, they'd be gajillionaires." We had the benefit of touring a bunch in a total grassroots style, earning one fan at a time.
C: We had an interview yesterday with someone who had read the Times article, I think she works for YouTube. The reason she wanted to interview us is because they want to do something similar, and kind of steal the idea. (laughs) It's an idea worth stealing and we're not protective of it, because it's an idea a lot of people have been thinking about. We just decided to pool our resources and really make it happen, build it from the ground up. It is complicated and hard.
I think there's a few things that made it work for us. One is that we signed on two team members, one of whom I'd already been working with: composer and arts administrator George Hurd. He helped us do all the research for the behind-the-scenes stuff that no one ever sees, like the companies that take the payment information. There's all kinds of things like that which you're never aware of as a subscriber. His partner is a wonderful graphic designer who we've already worked with a lot. She designed the site. So basically, the team is the four of us.
We have a few other things working in our favor. We crafted it to suit our very specific set of interests, and not every musician's interests would be the same as ours. For example, I've always loved the written word, photography and visual art. I totally dove into learning how to do video editing. I really love that part of the site that's not just the music. Not all musicians want to spend all that time on the stuff that's not music. I really enjoy that part of it — putting music into a bigger context.
We've been touring collectively for some decades already, in very self-made, grassroots operations. [The YouTube interviewer] was asking questions like, "How do you get fans?"
M: There's no "get fans" button. (laughs)
C: There's no Facebook button that says, "Get totally devoted fan here." You get fans by touring 20 years in various high-level, really committed, interesting, engaging projects and devoting your life to that — stepping off stage, talking to people afterwards, interacting with people at the merch booth… years and years and years of a whole life around being committed to creative music. Our fans are not the people who just care about the Billboard charts are saying. They care about deeper content and richer musical experiences.
M: It works for someone who has done this. If you've had a band that's done well, like a reasonably successful indie rock band that has some fans, it can work. If this model came out as a more codified platform, a lot of bands would get lost in the fray. You need to be out there playing and meeting your fans for it to work.
C: The important thing about it has been the whole idea of context. Music has always lived in a context, in a community, with a community of players and a community of fans and listeners. We moved out of a really rich, really varied music community (New York City) to a place fairly far removed. And digital music, for the most part, people find the track they want and download the track. It has no context at all the way that LPs did, for example, where you'd have liner notes, photographs, imagery that went with the songs, lyrics… various things that gave you more of an idea of what the whole project was about. Our intention is to bring context back in a digital format — to bring an analog context to a digital format.
M: Our personalities are suited to a more magazine-style release every month because Carla's a great photographer, because we like writing, because there are things other than the song. I think you have to have had some exposure out on the road touring. You also need an interest in other things that will buoy up the content of your song every month to make it interesting.
C: I don't think having all these different facets is a prerequisite for making it work, I just think it suits what our interest is and what we enjoy.
M: But because of that, I think it makes it an interesting thing that could grow to accommodate more people — because there are five subheadings within the monthly issue. It feels like a template for someone else, it could really work as opposed to a single WordPress page with a little embedded play button and a single sentence.
One thing that stands out about your approach is that you're thinking about your music like entrepreneurs. I think that's really lacking in musician culture. Many musicians think, "I'll focus on my songwriting, my performance, my recording" but they can't make a music career happen because they're not running their band like a small business.
C: Yeah, the world has really shifted in terms of what skill set you need to be not just a musician, but an actual, viable musician. This is for better and for worse. Nowadays you have to have some sense of what goes into graphic design, you have to understand how fundraising works. You have to understand how PR works and how to gather and keep your fans and your people resources. You have to be a travel agent.
And it means you have less time for music, it really does. I wish I could say it didn't. I wish I could say that I can actually muster some hours every day to simply work on some music. It's not true. A huge amount of the time I spend on music is spent on the business of music.
Everyone started complaining twelve years ago, bemoaning that the record industry is dying. The fact is most parts of the record industry didn't serve the independent musician that well anyway. I have a lot of stories under my belt of little bands like Tin Hat that get picked up by the big label — "Woohoo! Success on the horizon!" And then the guy who brought us onto the label, who's passionate about our music, who worked for that big label for 25 years gets canned at Christmas because his label got bought by Warner Bros. So when the record comes out, no one's there to care.
It's kind of a fallacy that now we're in the end of times because the record industry's dying. It's like now, what are we gonna do about it? At some point, it was just more fun to think like an entrepreneur, instead of just complaining that it was all dying and going to hell.
Do you think you can grow Rabbit Rabbit Radio to the point where you can bring other people in to manage the business aspects, freeing you up to dedicate more time to making music?
C: I hope so. I have to say, I love doing the film every month, even if some months it comes together totally last-minute. We created our own little gerbil wheel, and I'd love to get to the point where we're a month ahead, which isn't quite where we're at now. For sure, we could use another team member.
M: It's been a rough few months. We've made our deadline, but it's been a scramble. We just had a really busy summer of touring, and writing other music for other things. We've done it, but it would be helpful to have another pair of brains.
C: There's a lot that needs to be done. George Hurd, our co-manager of the site, wears fifteen different hats for what he does in Rabbit Rabbit Radio. We pay him a nominal monthly fee plus a percentage, so he has a vested interest in helping it grow. I have to give credit that we haven't given yet to our unofficial fifth member, and that is a friend of ours named Jon Evans. He has a studio that we work in a lot here on Cape Cod. He's got a beautiful studio. He's a musician, producer and engineer. We do a lot of our recording with him. Every once and a while we also work with our friend Joel Hamilton from The Book of Knots, who runs Studio G in Brooklyn. He's further afield, so sometimes we send him mixes and he mixes them. But we actually do a lot of very hands-on recording work. That's why the quality of the recordings is so high. Sometimes we do stuff at home in our living room, but often we get to work with Jon and that's been a huge help. it's really helped us keep the baseline quality of the recordings really special, so it doesn't seem like we're just throwing something together every month on our little SM-58 in the living room. But I love doing that too.
How do you plan on growing the fan base? How do you plan on marketing Rabbit Rabbit Radio?
C: All sorts of ways. It's good old-fashioned touring every now and again. It's reaching out when you have a show in a specific city to the two or twenty people that you know would love to know about it and will tell their friends. It's keeping occasional photos and posts on Twitter and whatnot. It's inviting special guests to be a part of the issue on some months and then asking them to spread it to their fans. We are literally trying every possible way.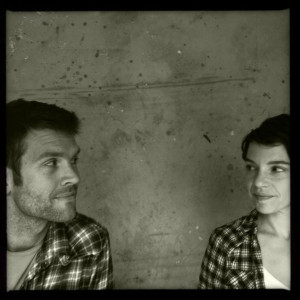 If we had another team member, we could probably be a whole lot more cohesive on how we approach that. That's what another team member would be partly responsible for, helping us strategize that. Right now we're so close to it, and so up close with our own deadlines, it's hard for us to think further ahead than month-to-month.
Musicians are constantly debating whether the changes in music brought about by digital technology are good or bad. It seems very polarized. On the negative side, people complain that quality is suffering, that freer access to music exploits musicians. On the positive side, folks point out there is more music being made and heard than ever before, and more opportunities for independent musicians to make money without being exploited. What are your thoughts on the digital music debate?
M: I think it's great that more people are making music. I think it's great that people are getting a shot. There's always going to be crappy music. I feel like everyone deserves a shot. We've lived on both sides of the issue. I think this is a far more rewarding way to own your output completely.
C: I think in terms of quality there's always been great music and shitty music. There's been a lot of high-budget shitty music, and there's been a lot of really wonderful low-budget living room music. So I don't really see that the financial continuum always reflects the quality continuum. I think it can. I just finished a recording session in New York for four days with Ben Goldberg from Tin Hat, and he pulled together a budget to record at one of the great studios. It would have been a sacrifice for that project if we had to do it in a living room. It's a nine-person band. So there are some projects that really do need a support budget behind it.
The project that Rabbit Rabbit Radio is based around is just the two of us, and sometimes our friend Jon — so it's very malleable. We can do recordings with just the two of us in the living room if we need to. We can also go work with Jon or work with Joel and augment it, make the recording production bigger. Either way, we are in charge of our own production quality control. And either way, we would do everything we can to make it as great a musical experience as possible.
How has the transition to family life affected your music career?
C: That transition forces all kinds of new ways of thinking. (laughs) The funny thing is, I don't like touring on that incessant level the way I used to. I used to really like it. There's something hormonal that changes in you where what's not good for your kid isn't good for you anymore.
That said, we know people like Nils from Sleepytime and his partner Dawn have a duo together called Faun Fables. They have two kids and a third on the way. They're touring as much as they ever did. They load into a van with a "manny" and they just hit the road. They're making it work. And I think the kids are enjoying it and getting a different kind of worldly education. Our daughter had been to Europe five times before she was two. She's a relatively well-traveled kid, and that has also been a part of her growing up, in a cool way. I think every family has to find where that line is for them, and for us it was a little closer to the less touring side.
M: We've started to get selective. There are certain projects that can go out for a third of the time now, and make three times as much money. It used to be Sleepytime had to go out for six weeks. We'd start breaking even at four weeks. The last two weeks were the profit. Because of how many people were in the band, we had to go out for these long periods. That's exhausting. We've gotten a little smarter in that regard. We've worked long enough that certain bands can go out for less time and still make the same or more money.
C: I always wrote music at the service of touring — writing it and going to rehearsal because our band's going on the road. I'd always been in the service of that model. Now, I'm really enjoying a deeper, more involved identity as a composer that needs more home time and needs a little more solitude. It's also that I'm ready for that now because I'm not just answering to me, I'm answering to the family and our daughter.
I always go on tour with three books and a whole bunch of manuscript paper, and my headphones, and my this and my that, with five projects I'm hoping to get done. I never touch any of it. Especially not now when we're sensitive to the fact that our daughter really doesn't like it when we disappear every night to go out on stage for a while. So during the day I try to give her as much as I can, so there's no day time. When the day is done and you're off stage, you're too wiped out. I always go with my total unrealistic optimism and it never pans out, so I'm actually enjoying the kind of productivity we've been able to have at home. The whole gerbil wheel has been great because it keeps us in line creatively.